A Spiritual Approach
Mothers already know how to birth, we teach you to faciliate that uncovering
Ongoing Mentorship
100% support through your entire training and certification process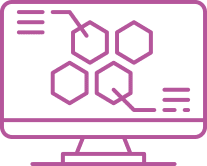 Evidence-Based
Best practices for supporting families from academic science
Are you seeking a Birth Doula Program
that resonates and connects deeply with you?
Understand how to best work with energetic and physiological effects of the birthing process. Keeping her oxytocin flowing helps mothers feel safe.
Our Birth Doula Certification is straightforward,
comprehensive and flexible.
Our Birth Doula Certification is straightforward,
comprehensive and flexible.
Our Birth Doula Trainings are held in-person and online (you chose)
Take up to 18 months to complete your certification (if more time is needed
after that, an extension option assures your completed work counts)
In-depth training includes a workshop and home study
Mentorship with your Personal Mentor supports you from the start throughout your training
Join an organization that believes in women's innate birthing abilities
BirthWorks Birth Doula Training Process is Easy!
You choose to start with the Workshop or your online learning.
Register & meet your Mentor
Find a birth doula training workshop
Complete online learning, at home at your own pace
Go into the world and support families in their birth choices.
Start Your Journey!
"During the BirthWorks workshop, I found myself nodding my head and agreeing with so much of what Cathy Daub shared with us. I feel more authentic as a doula thanks to my BirthWorks training and experience. The importance of the doula as a passenger, not the driver of the birth, really resonated with me. The only expert in a birth is the woman birthing. As doulas, we are there to serve our clients on their unique birth journeys, without judgement or assumption, walking alongside them as they move through the phases, challenges, and emotions of their birth experience."
"The depth of evidence-based support for BirthWorks approach, in addition to the deep personal work, which asked me to consider my knowledge, motivation and strengths and then taught me to humbly step back and trust - the power of birth, of my clients and of life — was so useful."
"No other organization offered the spiritual/philosophical training methodology with its unique human-values approach comparable to what I found in BirthWorks, so this was the pivotal reason for my decision to become a BirthWorks Doula."
"I loved the pelvic bodywork; being able to experience the room and space of the pelvic outlet. This wasn't a picture or pelvic model; it was my body."
"Personally, I walked away with peace and confidence in my ability to help women through their birth journey. Thank you BirthWorks!"
We believe mothers know what is best for their bodies, babies and family. We encourage families in the choices they make regarding where and how to birth, whether that is at home, a birth center or a hospital.
Our Doula Certification Program teaches you...
Our Doula Certification Program teaches you...
Optimal Pelvic Positioning and Pelvic Bodywork' relation to labor progression
How to decrease stimulation of the neocortex during labor
The deep significance of the microbiome, birth physiology, and Primal Health
The power of positive energy around a birthing woman
Non-pharmacological and other comfort measures for labor and birth
Trust in birth as an instinctive process
Understanding of the physical, emotional and spiritual aspects of giving birth
Our unique Human-Values approach to supporting labor and life
The impacts of mother·daughter relationships in birth
How to discover your best self in this role and growing your postpartum business
Already a Certified Birth Doula?
Other BirthWorks International Programs You Might be Interested in
Are you a birth or medical professional
looking to enhance your skills?
We offer continuing education for Midwives, Labor and Delivery Nurses, OB/GYNs … Birth professionals often join our workshops to enhance their skills. We also offer
cross-certification.