A Spiritual Approach
Mothers already know how to birth, we teach you to faciliate that uncovering
Ongoing Mentorship
100% support through your entire training and certification process builds your confidence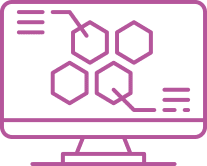 Evidence-Based
Best practices for supporting families from the latest quantitative and qualitative academic science
Cross-Certifying with BirthWorks?
Are you already trained as an educator or doula with another organization, and feel something is missing? (Maybe you "tiptoe" at a hospital birth, or parents you serve want more than stages of labor or intervention info?) Maybe you seek  compassionate, effective ways to be with parents?
Gain Unique Expertise

with BirthWorks!
Gain Unique Expertise

with BirthWorks!
Chose your unique Cross-Certification Path
Identify your past childbirth educator or doula work that is applicable
Apply to submit your past work for review and receive credit for some requirements to get Advanced Placement status to finish more quickly – application fee is $100
Receive a personalized Completion Plan for consideration, if accepted…
Register to officially cross-certify with BWI – certification fee is $250
Meet your Personal Mentor and have support along the way!
Complete Your Plan including a workshop
Receive Your New Certification!
If you want subtle, significant ways
to enhance birth and mother/baby health...
and to reveal yourself as the most capable and inspired professional possible, start your BirthWorks journey. This is an opportunity to be one of the most fantastic, inspiring and well-informed birth professionals now.
"Although I had been a certified doula for nearly 15 years, I had a strong desire to diversify my training. Having taught BirthWorks childbirth classes for about 10 years, I had grown fond of BirthWorks Philosophy that emphasized evidence-based and mother-led options. In addition to that, the spiritual and emotional education of the BirthWorks curriculum was unlike anything I had experienced and it brought an exciting dimension to birth, that is so often diminished or flat out ignored in our modern world. These were some of the components of my initial training that I felt were lacking... Fortifying my DONA doula certification with my BirthWorks Birth Doula Certification has given me a more well-rounded training to draw from."
"Yes, becoming certified as a BirthWorks teacher was a lot of work, but I am proud of the quality of my training and I'm confident that I can make a real difference in the lives of birthing parents."
"When we, as birth workers, stand witness to mothers, to babies, to births, we often experience that being in the space of love, truth, peace, right action and non-violence leads to the best birth outcomes, happiest mothers and healthiest babies. In BirthWorks, we deeply understand that the universal truth is that women already know how to give birth, and as BirthWork professionals, we embody the qualities and values that allow parents to connect to this depth of knowing within themselves. I am grateful to cross-certify as a Doula, because I feel I am better both as a person and as a professional having experienced again a deeper understanding of why BirthWorks."
Which is Your Professional Path to Cross-Certification
* Most of our cross-certification students already finished items with * before starting!
FEES: $100US application review fee + $250US certification program fee + ~$500 workshop fee ($50 off early discount)

CHILDBIRTH EDUCATOR ~ CCE(BWI)​
Birth Doula ~ CBD(BWI)
Postpartum Doula ~ CPD(BWI)
CHILDBIRTH EDUCATOR ~ CCE(BWI)​
REQUIREMENTS FOR CHILDBIRTH EDUCATOR ~ CCE(BWI)​
 Provide childbirth educator qualification*
Submit work for program requirements* – self-reflection (autobiography, birth experiences and birth events), breastfeeding preparation, hospital/birth center visits, homebirth midwife interview
Agree to BirthWorks Statement of Beliefs, Ideals, Standards and Scope of Practice
Do Written Requirements* – ten book reviews, three medical study critiques, three topic papers
Attend BirthWorks Childbirth Educator Workshop – virtual or in-person training
Take the Final Exam – based on comprehensive BirthWorks Childbirth Educator Manual
Teach BirthWorks Childbirth Education series
Become a Member of BirthWorks!
Birth Doula ~ CBD(BWI)
Postpartum Doula ~ CPD(BWI)
Gain new expertise and confidence to attract clients. See how The BirthWorks Experience inspires you! Our holistic experiential trainings include both the science of birth, such as optimal pelvic positioning and primal health AND a unique focus that honors birth through self-reflection and emotional preparation (grieving & healing, beliefs & affirmation and more).
When you cross-certify with BirthWorks ~ you are part of a heart-centered, highly-trained group of professionals and an inspired, intentional community. Together, we make a significant difference to transform the state of birth locally and around the world.
You May Be Interested in Other BirthWorks Programs?
BirthWorks Birth Professionals are the voice for mothers and babies worldwide. We trust the birth process and bring awareness, calm, humility and love with our presence. Our excellent values-based support grows clients' confidence and means birth outcomes for babies and mothers… which leads to ease in postpartum… and healthier babies and families from day one!